Business field
Daily chemical product R&D and
manufacturing total service
From product planning to development, production, and final product
shipment, KpKorea provides total services to its customers for all
processes. We focus on producing superior products based on mutual
trust with our customers.
We provide all kinds of liquid type products except powdered products
according to customer's needs based on our abundant experience in the
field of household products, personal care, and cosmetics.
Thorough quality management system
AQL (Acceptable Quality Limit) and ISO based thorough quality management
7 stage quality management system
Storage inspection operation(Finished and half-finished products, 2 years)
Post management
Fast action based on related law change
We actively manage the database of the latest market information and technology trends in the world for support and applied products so that they can be reflected in the supply products.
Product development, Manufacture process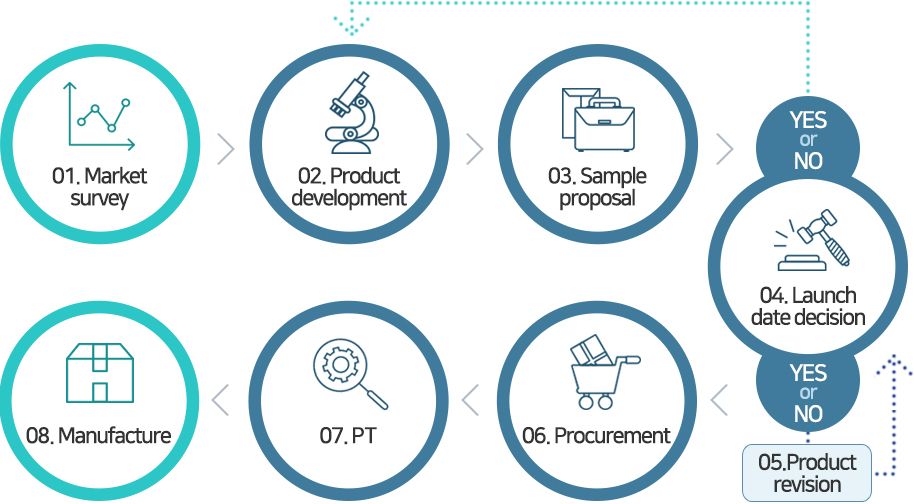 1. Market survey
·Sales/Planning: Company needs understanding/Market status survey ·Basis/Planning: Understanding product development and success possibility
(Price structure, customer needs etc.)
2. Product development
·Department in charge (Research, planning, procurement, manufacturing):
Internal opinion collection/Problem review(Package, development, manufacturing etc.)
·Research: Product property and performance evaluation stability (3 months)
3. Sample proposal
·Sales/Planning: Product proposal and sample proposal / Quotation calculation and proposal
4. Launch date decision
·Research: Secondary stability: After flavor, color, extract etc. confirmation ·Research: Product spec. decision
5. Product revision
·Basis: Pre-launch final inspection ·Planning: Final stability confirmation ·Research: Final research report
(1 month before manufacturing (6 weeks before in the case of including import period)
6. Procurement
·2 weeks before PT:
Manufacture order issue(Manufacture, Q.C) / (In the case of including import period: 6 weeks before PT)
·Procurement: Subsidiary material order
7. PT
·QC, manufacture: Pilot test
8. Manufacture
·Product manufacturing and delivery